TubePlayer / Video
User Manual
TubePlayer is a lightweight stand-alone application to play youtube clips on your desktop. You can create, save and edit playlists for youtube clips directly in TubePlayer.

TubePlayer uses the YouTube API for Developers.

Create new playlists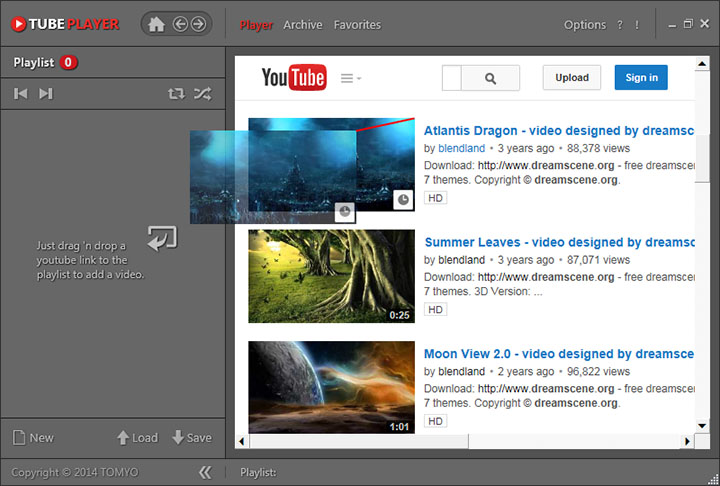 You can create new playlists on-the-fly, while browsing YouTube. You can find the navigation controls to navigate to your homepage (YouTube by default) or previous, next page in the menu bar on top of TubePlayer, besides the TubePlayer logo.

Just drag 'n drop a desired video link from the browser window to the playlist on the left side. If you are already on a video page, click the + button in the playlist header to add the video.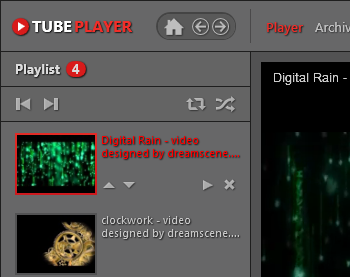 Skip clips, enable repeat or shuffle with the player controls on top of the playlist.

Double click on a playlist entry to start playback, or use the play button associated to the clip.
You can also re-order your playlist items by clicking the up/down buttons, or remove a clip from the list with a click on the x button.
Load and save playlists
The buttons to load and save TubePlayer playlists (*.tppl files) are located in the bottom-bar of the playlist control.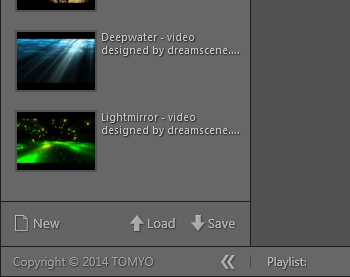 With New you can create a new, empty playlist.

Click on Load to open an already existing playlist.

Click Save to save the current playlist to disk.
HINT: You can hide the playlist to maximize the player window by clicking the double arrow button in the status bar of TubePlayer, next to the copyright text.
Manage and edit playlists
To manage and edit playlists in TubePlayer, click on Archive in the header menu at the top.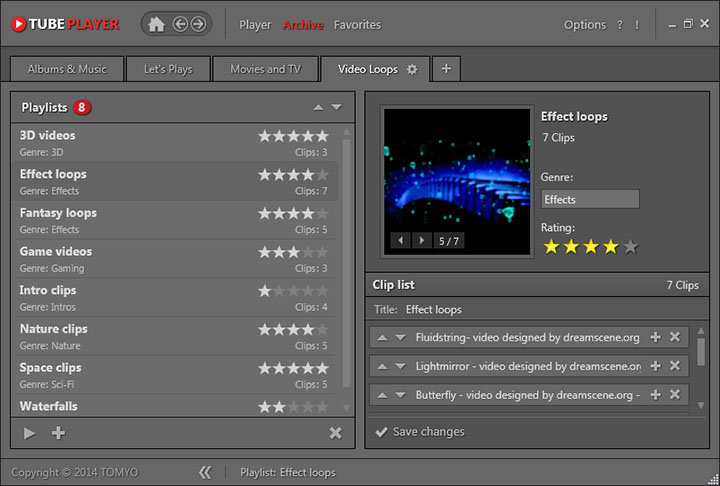 Like other media players TubePlayer creates a directory to store all your playlist files and playlist category folders under My Music, complete path "C:\Users\your username\Music\TubePlayer\".

Loading and saving playlists is not restricted to this folder, you can also load and save playlists somewhere else e.g. on your USB stick.

The playlist folder created by TubePlayer is used to categorize your playlists. Each folder under 'My Music\TubePlayer' is listed as a category tab in your Archive. You can create category folders manually in explorer, or click the + tab to create a new category folder. Save all playlists that should be displayed in a specific category to the respective folder.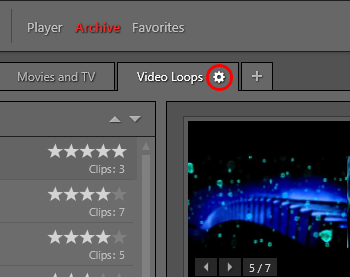 Click the edit icon in the tab header to rename or delete a category.

Warning: Deleting a category will also delete the category folder on disc and all playlists in it!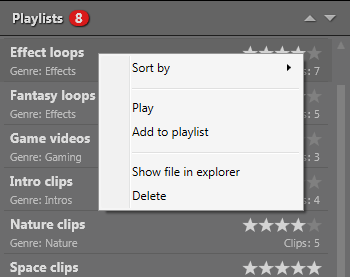 Double click a playlist item to load the playlist to the player, or right click on an entry for more options.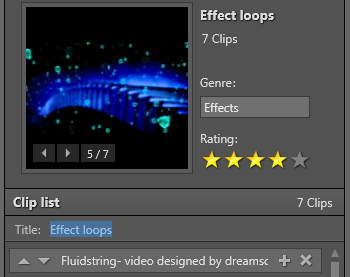 You can rate a playlist, enter a genre, or rename the playlist.

You can also rename, re-order, or remove clips from the list.
After editing a playlist, click on Save changes to apply your changes to the list.

HINT: All playlists are stored in single 'tppl' files to make it easy for you to copy playlists, and to share playlists with your friends.
The 'Favorites' list
Click Favorites in the header menu of TubePlayer to add a website to your Favorites.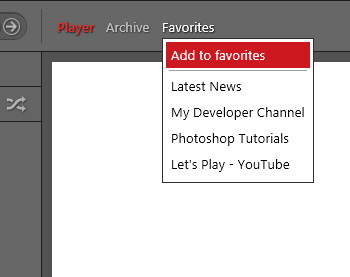 With Add to favorites you can add the current loaded site, such as a youtube channel, to the favorites list.

Right click on a list item to rename or remove a favorite entry.
TubePlayer settings
Click Options in the header menu of TubePlayer to change the default language, to check for updates, or to change playback settings.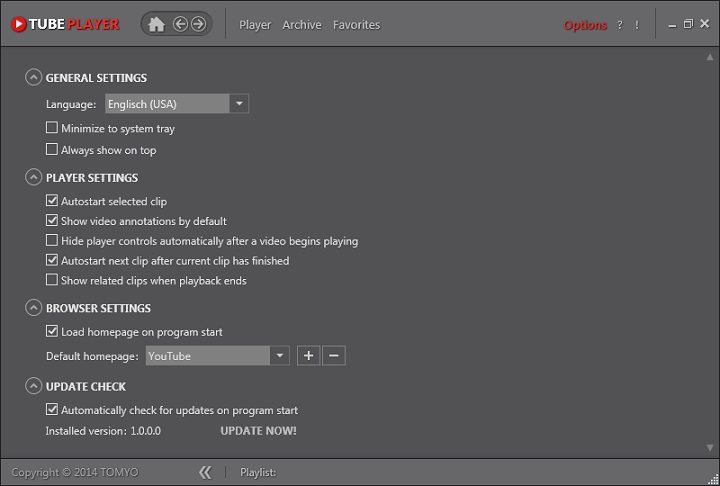 General settings
- Select your prefered language.
- Check 'Minimize to system tray', if you want to hide the player window completely on minimize.
- Check 'Always show on top', if you want the player window on top of all other windows.

Player settings
- Autostart selected clip.
- Show video annotations by default.
- Hide player controls automatically after a video begins playing.
- Autostart next clip after current clip has finished.
- Show related clips when playback ends.

Browser settings
- Uncheck 'Load homepage', if you don't want a website to be loaded on program start.
- Select the website that should be loaded on program start with 'Default homepage'.
- You can add the current loaded website to the list with '+'.
- To remove a list entry, select entry and click '-'.
- Optional: Load youtube clips directly with internal player, instead of loading the related youtube video website.
Update check
- Automatically check for updates on program start, recommended.
- Click on 'Update Now' if you want to manually check for updates.

System Requirements
The Microsoft .NET 4 Framework (or any higher version) is needed to run TubePlayer.

System OS: Windows XP, Vista, 7 / 8 / 8.1 or 10

CPU: min. 1.6 GHz CPU (32- and 64-Bit supported)

RAM: min. 1GB Ram (2GB recommended)


Internet connection needed!

To watch YouTube Clips in TubePlayer, a internet connection is needed. We recommend a flatrate DSL connection with at least 1000 kbit/s download bandwith for video streaming.