MobileTones / Audio
Description
MobileTones is a free ringtone-maker, -recorder and -converter. Make your own ringtones and message sounds for Android, Apple iPhone, BlackBerry and Windows Phone.

Simply create ringtones from your audio and video files, or record something over a microphone or line-in. You can even create ringtones from your DRM protected music files (legally), or from web streams, by easily capturing the audio directly from your soundcard.
Supported input formats:
Audio:
*.acc; *.adts; *.mp3; *.m4a; *.wav; *.wma; *.ogg; *.flac (ogg, flac codecs must be installed seperatly)

Video:
*.3g2; *.3gp; *.3gp2; *.3gpp; *.asf; *.avi; *.m4v; *.mp4; *.mov; *.wmv; *.webm (webm codecs must be installed seperatly)

The codecs for ogg, flac and webm are free available at xiph.org (manufacturer site).
Supported output formats:
Android (.m4a), Apple iPhone (.m4r), BlackBerry (.mp4), Windows Phone (.wma).
Read the complete manual for more details.
Screenshots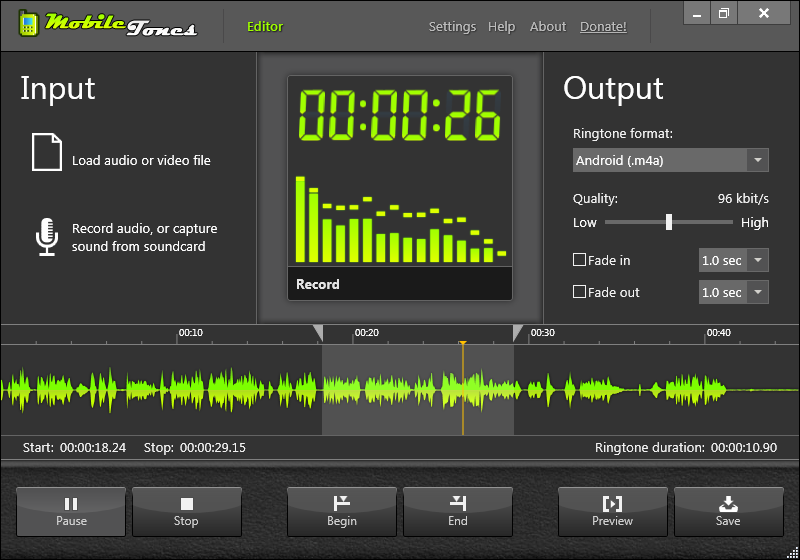 Download
Download the current version of MobileTones (freeware). Available as complete version (with installation), or as zipped version (without installer, e.g. for portable usage).
MobileTones (v1.0.0.0) complete version, with installation MobileTones (v1.0.0.0) zipped version, without installation
Languages
NEW !!! Hungarian translation for MobileTones (friendly translated by videotanfolyam.hu).
Download (right-click, save as): Translation_hu-HU.xml.
Just copy the translation file (*.xml) to the 'Languages' folder included in the installation directory of MobileTones.
System Requirements
The Microsoft .NET 4 Framework (or any higher version) must be installed to run MobileTones.

System OS: Windows Vista, 7 / 8 / 8.1 or 10 (Windows XP is NOT SUPPORTED)

CPU: min. 1.6 GHz CPU (32- and 64-Bit supported)

RAM: min. 1GB Ram (2GB recommended)


Sources
The software is based on Microsoft's newest multimedia technology Media Foundation, you can extend the input format support by installing third-party codecs. For example, you can add .ogg or .flac support by installing the respective codecs from xiph.org (free available).
MobileTones uses parts of the WPF Sound Visualization Library for audio visualization. The WPFSVL library is open-source and released under the MIT license.